Best Litigation Law Firm in Dubai
Alqada provides high-end expertise in litigation matters which is unparalleled in the Middle East. Litigation matters are complex. And a professional approach is vital in litigating disputes. Our expert team resolves issues that may be civil as well as criminal. Our client may have a small enterprise or a big organization, we are capable of handling any litigation matters in the region. Alqada law firm's expertise is in debt collection which is an added advantage for any client.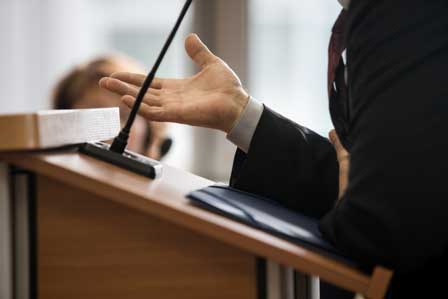 With many years of rich experience in delivering satisfied outcomes, we have shaped our image as a specialized litigation law firm in Dubai. The team of Alqada is exceptionally qualified. You can fully rely on our expertise. We have managed to cement our position in the legal sphere. We keep ourselves abreast of any changes in the local laws. Our team even offers the clients with regular updates and continuously guides them towards the best options.
Why Alqada as a Litigation Lawyer in Dubai?
Alqada offers a wide range of litigation services in Dubai. We serve different sectors such as construction, real estate, debt recovery litigation, banking, and finance to employment. Our competent team specializes in representing litigation cases in the Dubai International Financial Centre (DIFC) courts.
Our litigation law firm in Dubai helps with the following:
Tenancy disputes
Debt recovery
Construction
Real estate disputes
Commercial and corporate disputes
Employment disputes
Inheritance and family litigation
Insurance and reinsurance
Insolvency
Banking and finance
Professional negligence
Criminal litigation
Compensation claim litigation
Litigation is now accepted as a medium of dispute resolution. Most businesses are aware that courts consume time for delivering justice. Hence, many people look for alternatives. For the last few years, we are regarded as the best litigation law firm in Dubai the case is evaluated, we share the insights with the clients to ensure complete transparency.

Alqada law firm has a strong team of attorneys who strategically manage any disputes arising in civil cases or criminal cases.
Civil Lawyer in Dubai
Our team of Civil Lawyers in Dubai represents the clients in court, and helps them in all the Civil Disputes in areas of Family, Corporate, Maritime, Intellectual Property Dispute, Commercial Property, Real Estate, and distressed debts, trade practices, franchise litigation, and more.

We can advise and support civil litigation via a range of measures and offer complete Civil law Services from drafting the agreements to defending people in Civil Courts.
Criminal lawyers in Dubai
Our Legal Consultants or criminal lawyers in Dubai represent the clients in Police Station, Public Prosecution, Court of First Instance, Court of Appeal, Court of Cassation, and Federal Supreme Court.

Our legal firm has some of the most experienced criminal lawyers in Dubai who give guidance and litigation for crimes and represented clients in Cheque bounce cases and Other Fraud cases.
Bounced Cheques in UAE
In UAE, the cheque bounce is a very frequent problem looked at by people during their range in the country. It is covered under the extent of a criminal offense in the UAE, and legal penalties can be monetarily extreme and overwhelming.

Bounced cheque cases and complaints in UAE can be specifically happened for several reasons but mainly due to the failure of paying the debt to a creditor by the debtor on the allotted date and time. Under the UAE Federal Law No. (3) of 1987 Promulgating the Penal Code, both criminal, as well as civil proceedings, can be initiated against the culprit.

If you ever find yourself in such a situation where a cheque you issued or received has been returned by the bank, and if the holder of the bounced cheque filed a complaint in the police station, then our legal consultant or best lawyer will try to resolve the issue for both parties as soon as possible.
Other Fraud Case
Our legal firm has one of the most leading fraud case lawyers in Dubai who give guidance and litigation for crimes and represented clients in various fraud cases, such as Bounced cheques, Robbery, Travel ban and deportation, Forgery and fraud, Medical negligence, Misdemeanor, Drug trafficking, Defamation, Juvenile crimes, Infringement of privacy, Bail application, Tax evasion, Public office offenses, Cybercrimes, and more.
Commercial Cases in Court
The Commercial Court deals with all cases arising out of business disputes, both national and international. The undisputed dynamic solutions by our law firm ensure the best solutions to the legal issues.

Our team of Commercial lawyers in Dubai provide bespoke legal advice on the commercial legal issues and deal with all types of business dispute including breach of contract, property, trust, and probate, IT disputes, judicial review, corporate mergers, global restructuring, advertisement and marketing disputes, or other investment disputes.

Our commercial practice areas are joint ventures, Outsourcing, E-commerce, procurement, software development contracts, supply chain management, franchise, and area developmental agreement, licensing and sponsorship, advertising and marketing, investment agreements, consultancy agreements, sports law, and more. All the commercial legal dealings and regulatory works are taken care of by our firm.
Amr Al Adaa - Order Performance in court
This is a process introduced in court to ensure fast-track judgment in case of outstanding payment delays. When a party's documents are full proof without any possibilities of discussions on the outstanding payments, the party can directly go through the process of order performance (Amr Adaa) and get a judgment as fast as less than a month at times.

The documents in case of the outstanding amount should clearly indicate that the only conflict between the parties is on the time of payment and not on the amount of payment.

These documents may include but are not limited to: Balance confirmation, statement of account signed and stamped from the other party, Bounced Cheque, audit reports stating outstanding of the opposite party, etc. You may go to file a normal civil case and if the judge feels that our documents are enough to go for amr adaa, he may shift the same directly to amr adaa. The court fee structure of Amr Adaa is similar to normal commercial case fees.
Best Lawyers for Maritime Law in Dubai
The market is changing and so complicated are the legal process in any business mode. There is uncertainty in every step-in business now than it had been before and one cannot be sure to know all the details in the legal process. The laws are changing with the changing trends and for this, you need an expert to guide you through. The businesses have become more urbane and one must sync with it to handle it in a better way. Businesses are going technologically upgraded and hiring a legal expert is a necessity than a luxury. Alqada believes in making things simpler for our clients and taking care of the whole legal factors is our team's forte. Alqada has a stronghold on debt collection as their specialized service which can also make things clearer and easier in the maritime and shipping industry.

Our Lawyer specialized in Shipping Sector has knowledge of maritime, trade, and finance law that the firm offers at an affordable budget. We work with shipbuilders, charterers, salvors, financiers, port and government authorities, insurers, etc. across many sectors. We have a special team for shipping finance which covers all types of asset finance facilities, shipbuilding, and repair contracts: sale and purchase of vessels, leasing, export credit financing, and more.

Hiring a professional save, you from any uncertain legal calls, which can drain your pockets. Our expert attorney will be on guard to save you and your finance from legal disputes.

Contact us for any marine-related law issues at the best industry rates from the expert legal panel.
Bankruptcy Law, Corporate Insolvency and Restructuring:
As time changes so do the laws to accommodate current settings.Bankruptcy law in UAE has been modified and only bankruptcy expert lawyers can help you to get out of the situation. The professionals, in this case, must be experienced, updated, and articulate in solving the insolvency issues. At Alqada, the team of lawyers in UAE will help in getting access to the necessary resources to mitigate the legal issues arising out of the finance development.
Corporate Structuring:
Corporations may fail financially due to many reasons as excess leverage in public sectors, technological advancements, fragile capital structure, fraud, and mismanagement. Our team of bankruptcy and structuring attorneys handles issues from any sector be it real estate or healthcare, banking or consumer goods, media or shipping, and more.
Construction Litigation:
Constructions projects are at times, complicated but even if simple litigation disputes can be very complex, challenging, and technical. The professionals take care of the matters with utmost care analyzing all the points and loopholes, thereby, strategizing the case for the best result. Our team works for contractors, subcontractors, owners, project managers, surveyors, architects and engineering firms, and other related professionals. Alqada works through different phases of construction projects – Pre-construction, administration, and post-construction.
Pre-construction-
This phase includes corporate structuring, construction procurement, and financing, investor negotiations, development planning, and zoning, drafting the preliminary set of contracts, advice, and guidance on setting up escrow accounts.
Administration:
This stage involves defective engineering and construction defect claims, risk management, contract enforcement, guidance on strata law, and defining common areas.
Post-construction:
The legal team of Alqada is always prepared for disputes in bids, tenders, construction fraud claims, subcontract claims, court litigation, etc.

The team of Alqada is specialized in debt collection and hence 'settlement experts can smoothly carry out distressed debt issues. The team not only deals with private companies and MNCs but also Government and its agencies. We also advise on financial institutions, professional liabilities, and commercial risk insurance, product insurance matters, etc.
Our Process
Our well-versed team has sufficient experience in resolving litigation cases. Alqada has a long and impressive track record of successfully resolving high-value disputes. As and when necessary, we conduct extensive research for cogent arguments. We defend the interest of the clients in the best possible manner. If you are searching for the best litigation law firm in Dubai, look no further than Alqada. Just share your case with us and our litigation lawyers will extend the best solutions.
You can simply send your query, or directly Contact us on 048787049, Our legal Consultant will get back to you for all your civil litigation services in UAE.