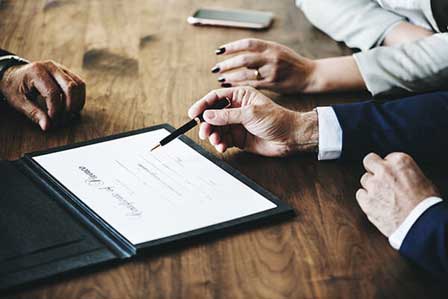 Contract Lawyers in Dubai, UAE
At the point when two people, associations, or organizations have repudiating opinions about a contact where they can't agree on how the terms are to be applied, a question starts which must be settled under legal direction. To determine such issues that worry the law of agreement, it is important to comprehend the various manners by which the court will apply the interpretation or development of the contract is of reupdated significance.
In clear terms, an individual can contemplate two unique methods in which the agreement could be interpreted specifically, subjective and objective. As a rule, the appointed authority desire to investigate the contract expectations as subjective or investigate the activities and how they will associate with specific statements as in objective.
Objective of Contract Drafting
The contract and agreements we draft for you are created given your inclinations, ensuring the terms and conditions included are completely lined up with company law UAE, as well as in favor of your business.

Alqada, the best law firm in Dubai with the best contract and agreement lawyer that will work in connection with real estate lawyers in Dubai to guarantee that you have the best legal adviser that will fit the law in which your contract disputes will be tended to.
Procedure of Drafting a contract with a company in Dubai
While drafting a contract with a company in Dubai, the provider and the customer should meet and discuss the details, terms, and conditions. There are cases in which one of the parties is keen on arranging or negotiating certain conditions. Kindly notice the way that a case is totally legal, however, it is best to have your lawyer in Dubai at the moment of negotiations, to have legal support. When the provider accepts the new terms and conditions, the agreement is endorsed by both the parties and will go into power at the concurred date.

Our real estate lawyers in Dubai specialize in all types of tenancy transactions like long-term leases (Residential, Commercial, and retail). We guide our clients through the process of preparing the lease and further throughout the lease term, whether for landlords or renters.
Our guidance for legal service and cases includes a complete set of services like:
Company Formation Legal contracts evaluation
Business Contract
Purchase Contracts
Lease
Employment Contract
Sales Contract
Licensing Agreements
General Business Contract
Investment Contract
Sub-Contracting and Contracting Contracts.
Contract Drafting Services under our Expertise
We are a team of experts that provide Legal Drafting Services in Dubai and invests heavily in drafting and exploring bespoke agreements for clients in different enterprises, looking for a wide scope of goals with their reports, under the law that must be adhered to. We also help our clients in picking the beneficial kind of contract and agreements for doing business in Dubai, so they can accomplish their objectives and get profitable outcomes with as low expenses as could be expected.
You can simply send your query, or directly Contact us on 048787049,Our legal Consultant will get back to you for all your query related to doing business contracts or agreements in UAE.